Belgium lies at the cultural and linguistic boundary between the Germanic and Latin parts of Europe, with the north of the country composed of the Dutch-speaking Flanders, the south of Belgium being French-speaking Wallonia, and the capital area of Brussels being bilingual.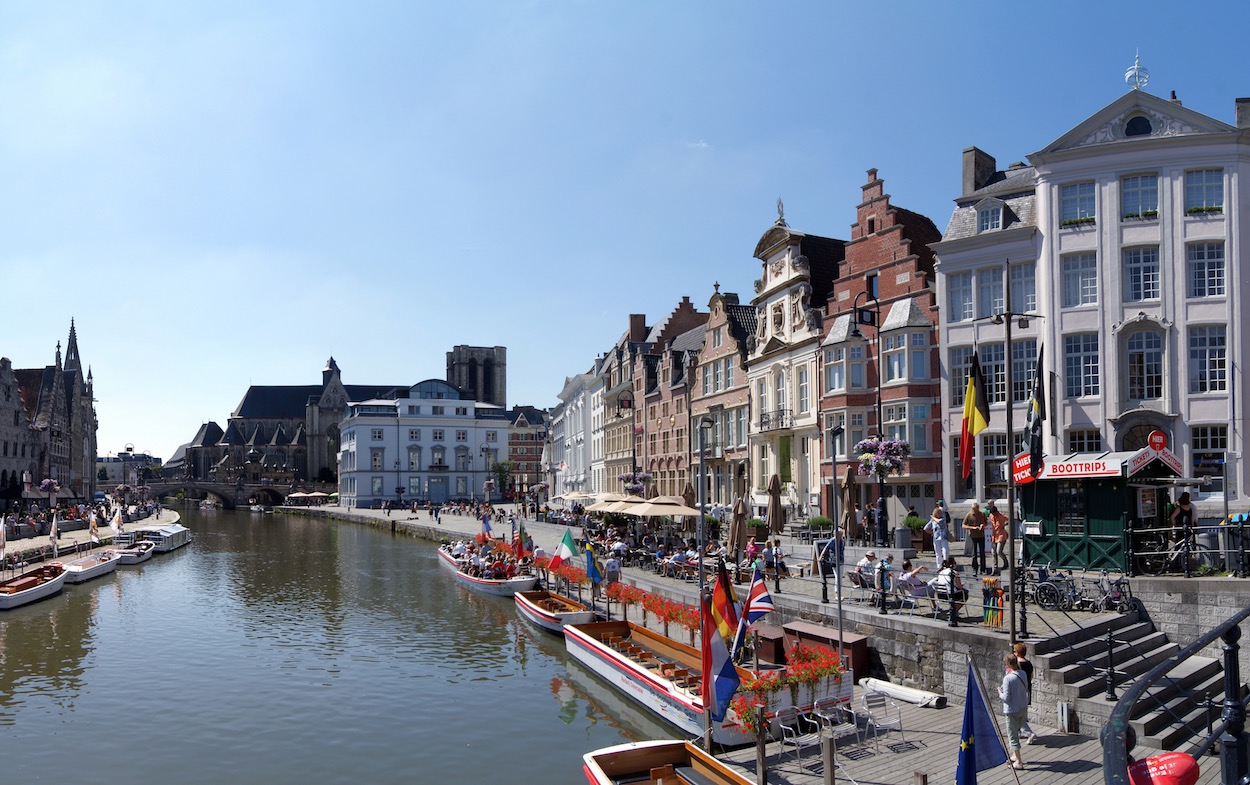 In Brussels, the bilingualism is evident, as all places, including the subway stations, have a French name and a Flemish (Dutch) name. There is much to see, such as the Grand Place/Grote Markt, the central market square with its Gothic town hall and superb Baroque guild houses. There are the Royal Museums of Fine Arts of Belgium, with works by Pieter Bruegel, Rubens, Magritte, and many other artists of renown.
Flanders is a feast of medieval architecture, and it is evident that Belgium has been much more successful in preserving its old buildings than the UK, where many historic edifices were torn down in the sixties to make way for squarer structures.
Now designated a World Heritage Site is the pretty city of Brugge/Bruges in West Flanders with its awe-inspiring architecture, its majestic Market Square with Belfry and City Hall, its stunning canals and waterways, its lace shops, and comfortable and stylish cafes. Brugge/Bruges is relaxing and serene, and has more of the feel of a town than a city.
Ghent, in East Flanders, is a port, and also has a university, meaning that it has a significant young and upbeat population. It has many cobbled streets, and the cars make a distinctive rumbling sound as they move through this bustling city. Here you can see Saint Bavo Cathedral with its paintings by Hubert and Jan van Eyck, and works by Rubens. The impressive Gravensteen Castle, dating back to the Middle Ages, is in the town center, and close to the very excellent De Draecke hostel, which is more in the style of a boutique hotel than a hostel When you need a rest from your sightseeing don't forget to head over to Sleepstraat, where all the students go to eat, a mere stone's throw from Gravensteen, for some delicious Turkish pizza (known as pide) and salad.
Famous for its diamond industry, you may well also want to visit Antwerp, which also has some wonderful old buildings, including the Rubens House Museum.
With so much to see, there will be more posts on Belgium.