I've been a fan of the superstar tenor Andrea Bocelli for almost 6 years since I bought his beautiful album named Tuscan Skies (Cieli di Toscana). I fell in love with the song L'abitudine that he sang with Helena Hellwig but the more I listen to Andrea's music, the more better songs I could discover.
Attending a concert of Andrea Bocelli was always in my wishlist and finally I had the chance to buy the ticket at Madison Square Garden, New York City when he had a tour in North America. The concert took place on December 17th in New York, it cost me more than $300 but that's probably the best money I've ever spent.
The stage of Madison Square Garden is not as stunning as his recorded concerts in Las Vegas, Portofino, Central Park or Tuscany. I was a little underwhelmed because I really love those DVDs and Blu-ray disks. However, I soon felt excited when Andrea took the stage after some performances by the orchestra and CARisMA Guitar Duo.
The concert was divided into 2 sections. The first part includes mostly new songs from the "Opera – The Ultimate Collection" album, I'm impressed the most with his performance with Cuban Soprano Maria Aleida in the popular duet "La Traviata – Libiamo ne' lieti calici". The 1st section ended with "Love Me Tender" by Elvis Presley, many people were a little disappointed as the first half was not bad but not outstanding either. However, this is just the opening and Andrea saved the best for last.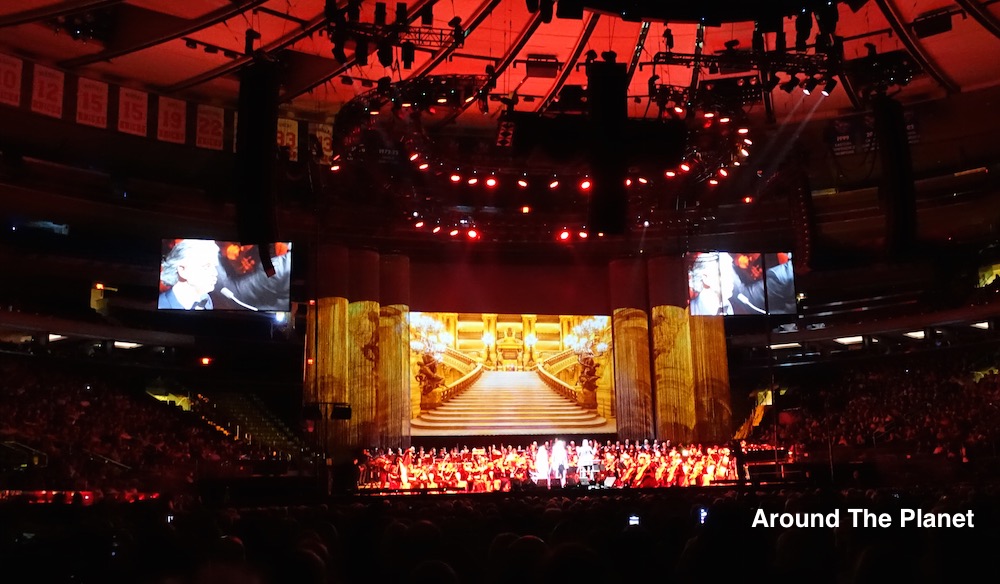 The audience was totally mesmerized by the longer 2nd half of the show. There were more familiar songs and somehow I kept getting goosebumps during the last hour of the concert, especially when he sang "Canto della terra" with Heather Headley. Subsequently, I also loved "When I fall in love" featuring the violinist Caroline Campbell, and there are two more duets, "Prayer" or "Time to say goodbye", with Heather Headley and Maria Aleida respectively. When most of the audience thought the show ended with "Time to say goodbye", Andrea came back to the stage singing "New York, New York" in the excitement of all New Yorkers. The concert ended beautifully with the Puccini's iconic aria "Nessun Dorma" from his opera Turandot. Honestly, I really love this version of "Nessun Dorma" as the voice of Andrea Bocelli is so strong and clear to sing it comfortably and perfectly.
Overall, this is my first Andrea Bocelli concert but absolutely not the last one. It lasted just over 2 hours and I felt a little unsatisfied because I know Andrea still has a lot of brilliant songs. I will join more of his upcoming concerts for sure.