I first had the pleasure of meeting Keith Floyd when I was living in Kyoto, Japan. I was in my lounge, a six-mat tatami room graced with a 29-inch Victor TV which appeared almost oversized in the tiny room, but is pretty commonplace in Japan, where tiny rooms and huge tellies are the norm. I was tuned to NHK, and it was an unremarkable stiflingly hot Kyoto summer day. But through the sultry heat I suddenly heard refined English tones, and glancing in the direction of big Victor, I caught my first sight of Keith Floyd. This was the point where I first came face to face with this great cook.
Keith Floyd was in Australia as I recall, and was showing us a rather nifty way of heating up a steak under the bonnet of a jeep. Probably what I was seeing was the last episode of Floyd on Oz. I made sure I didn't miss the same slot the following week, and was rewarded with Far Flung Floyd, which I watched avidly week after week, as he created delicious dishes in Hong Kong, Malaysia, Thailand and Vietnam, with his delightful aromas gently wafting through the TV screen into my little Japanese room – well, that's how it seemed anyway.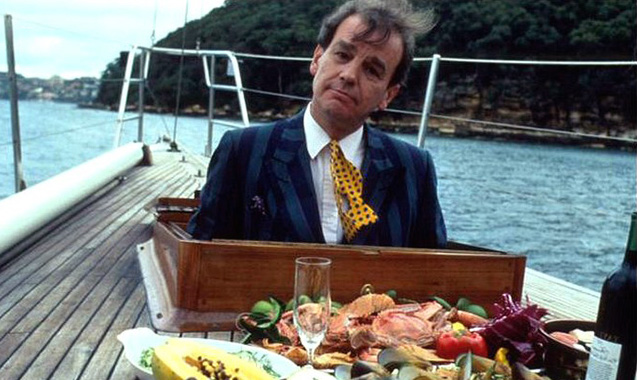 Keith Floyd Cookery Collection DVD
Forget boring kitchens – the cooking was often outdoors, and frequently involved great quantities of mouth watering coconut milk, making for a great sauce along with the lemongrass, coriander and other delights. And the programmes were not just about cooking, but about travel and people too. At one point Floyd was shown sitting behind the pilots in the cockpit as they painstakingly negotiated their way down into Hong Kong's Kai Tak Airport, greasing a wing against a skyscraper here and there. Flying into Kai Tak, as Floyd mentioned, is like flying into the mouth of a dragon.
And it wasn't just about putting ingredients together, but about shopping, eating and enjoying too, with trips to the local markets to buy spices, and Floyd and local people tucking into the food after the cooking.
Floyd created dishes with irrepressible gusto, and frequently seemed to hijack the direction of the filming, telling the camera crew where to focus, and what to get a shot of. You were never bored with Floyd, who would frequently toast his audience with a glass of wine. You felt like you were right there with him. He was like a good friend that you could have a laugh with.
Cooking with Floyd was about enjoying, experiencing, and learning something new, which is very much what travel is about. I'd never become glued to a cookery programme before, or avidly followed a cookery series, and I don't believe I ever have since.
Latterly Floyd lived in Provence, another favourite haunt of mine, and he couldn't have picked a better place to complement his love of good food and wine.
He will be sadly missed. He certainly will be missed by me.